Brooklyn, Queens, Bronx, Manhattan
 Livingroom, Dining Room, Den, Home Office (Dry Rooms)
Dust, polish all furniture, sweep floors
Vacuum carpets and floors
Mop hardwood and tile floors
Clean windows/sills (inside) maximum of 8 windows cleaned per job
Door knobs, dust air vents, empty waste baskets and bagged
Clean all glass surfaces/mirrors/picture frames
Dust and clean baseboards, book cases
Wipe phones with disinfectant and other frequently used items
Clean and dust corners and edges, clean light switch
Kitchen Cleaning Services (Wet Rooms)
Clean outside of stove top, microwave & refrigerator
Thorough cleaning of exterior surfaces, cabinets, kitchen appliances
Disinfect counter tops, garbage container
Mop floors
Bathroom Cleaning Services (Wet Rooms)
Sinks, mirrors, toilets, showers, bathtubs, stand in showers, tile walls
Clean, polish and shine all wood/chrome surfaces
Clean and shine all metal items such as faucets and handles
Scrub floors if needed
Bedroom Cleaning Services (Dry Rooms)
Mop floors, make beds, dust & polish furniture, vacuum if needed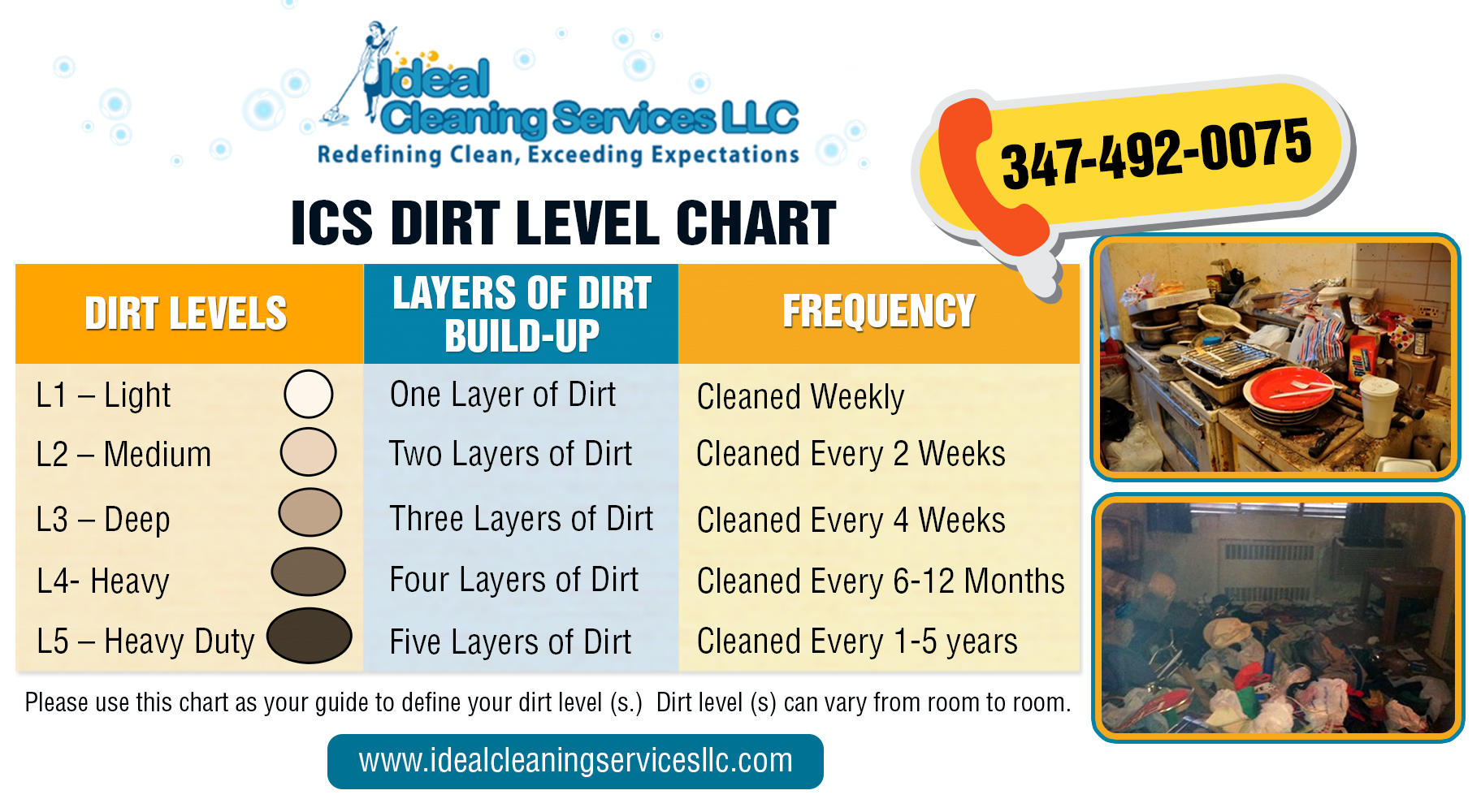 Minimum of 4-6 hours for the above services using the company's cleaning products.
Client must provide their own vacuum, step ladder, garbage bags, and paper towels. We come fully equipped with the bucket, mop, broom, and all the cleaning agents to service your account
Minimum Hour Requirement Per Cleaning Agent for Standard Cleaning Services:
• Brooklyn, Bronx, Queens – minimum 6 hours.
• Manhattan – minimum 4 hours.
• We do not provide standard cleaning services in Nassau, Long Island (move in, move out, after construction, regular ONLY hoarding, and deep to heavy duty jobs).
Travel Fee Breakdown For All Job Service Type:
Traveling to some accounts can be very time consuming, as a result, a travel fee may apply to those living in two fare zones and/or require more than 1 hour travel time one way.
A travel fee of $25.00 per hour per cleaning agent, commuting over our usual  one hour travel time will be assessed , plus any additional LIRR, Metro, cab fares. For example, Jane lives in Brooklyn and it takes us 2 hours to get there, total traveling time is 4 hours. Your travel fee will be $50.00($25.00x2hours). Another example, Jane lives in Queens taking us 1.5 hours, total 3 hours, two fare zones (train and bus), the travel fee is $25.00.  Last example, Jane lives in LI, 3 hours round-trip. The LIRR and/or the cab fare is $25.00 round-trip plus  the $25.00 for the hour travel fee. The total travel fee is $50.00. All examples are one cleaning agent. The cost is doubled for two.
****We do not drive to our job sites to avoid traffic, accidents and most importantly due to the nature of the type of clients we service (hoarders & heavy duty accounts) arriving undetected is key.  We also understand if the travel fee is pricey, however, we value our cleaning agents time and want to ensure they are appropriately compensated.